There's no shortage of things to do with teenagers in London, but in this post, we help you narrow it down to the best indoor activities. Perhaps it's cold and rainy outside, or even too hot? Maybe you're just exhausted from walking around and the overwhelming crowds of people. Don't worry – here are the best things to do in London with teenagers – indoor edition!
1. WeJam – The Immersive Rockstar Experience
Calling all music-loving teens and families in London! Looking for the ultimate indoor activity that guarantees non-stop fun and creativity? Search no further than the WeJam studio in Camden Town.
At WeJam, you get to create your very own band, no matter your musical experience. These hour-long sessions cater to all levels (including total beginners), and are led by skilled professionals ensuring an amazing time while making music.
Even if you're a complete newbie, fret not! WeJam's clever technology lets you start jamming within minutes. Just follow the color-coded instructions on your screen, and you're good to go. It's so easy that even 8-year-olds can master it.
Get ready to jam along to classic pop and rock songs, and the best part? Everything you play gets recorded and sent to you afterward! Plus, you'll receive a score after each session, sparking a friendly competition among teens to top the leaderboard.
Beyond the music, entering the WeJam studio is an adventure in itself. Concealed behind a secret door in a guitar shop basement, the studio offers plenty of Insta-worthy moments to share with friends.
For those yearning for a VIP experience, live out your rockstar fantasy by making 'rider requests' when booking. Like chart-topping celebs, you can have specific items waiting for you upon arrival.
This incredible opportunity is not to be missed! So, what are you waiting for? Click here to book your session now or visit the home page to discover more about this tailored activity for teenage music enthusiasts. Unleash your inner rockstar at WeJam.
2. Tate Modern
If your kids have an artistic flair and a passion for culture, a visit to Tate Modern in London is an absolute must for an inspiring and enriching indoor activity.
Situated on the stunning Bankside of the River Thames, the Tate Modern is not just any art museum; it's a world-renowned institution that houses an impressive collection of contemporary and modern art. For your teenagers, it's an opportunity to explore and immerse themselves in the vibrant and diverse world of visual arts.
The museum's extensive collection features works by iconic artists such as Picasso, Warhol, and Hockney, as well as contemporary artists pushing boundaries and challenging conventions. From 'traditional' paintings to thought-provoking installations, Tate Modern showcases the evolution of art and its influence on society.
A visit to Tate Modern is not just about observing art; it's a chance for your teenagers to engage with creativity and express their own perspectives. The museum hosts workshops and interactive exhibits that encourage young visitors to participate actively in the artistic process. It's an opportunity for your teens to unleash their creativity and find inspiration in the vast world of art.
Tate Modern also offers breathtaking views of London's skyline from its stunning (and controversial) terrace. It's a perfect spot for your family to take a break, enjoy the panorama, and discuss the fascinating art you've discovered inside.
3. Barbican Conservatory
If your teens have a love for nature and a curiosity for hidden gems, a visit to the Barbican Conservatory in London is a great rainy-day activity!
Tucked away in the heart of the brutalist Barbican Centre, the Barbican Conservatory is a lush oasis that offers a serene escape from the city's hustle and bustle. For your teenagers, it's a chance to step into a captivating world of tropical plants and exotic flora, all within the comfort of an indoor environment.
The conservatory boasts a stunning array of plants from around the globe, creating an intriguing and peaceful setting for exploration and discovery. Visitors will be captivated by the vibrant colors, unusual shapes, and delightful aromas that fill the air, making it a perfect opportunity to connect with nature and appreciate its beauty.
The Barbican Conservatory is not just a place to observe; it's an interactive experience. Your teenagers can learn about different plant species, their ecosystems, and the importance of biodiversity through the various exhibits and educational displays. It's a chance for them to broaden their knowledge and develop a deeper understanding of our natural world.
Beyond the rare flora, the conservatory offers great views of the Barbican Centre's iconic architecture, including the listed modern high-rise buildings that surround it. The combination of nature and architectural design creates a unique day out for inquisitive minds.
The Barbican Conservatory's commitment to conservation and sustainability makes it an ideal destination for environmentally-conscious teenagers. It's not just a greenhouse; it's a place where your teens can appreciate the wonders of nature and the importance of protecting our planet.
4. Tower of London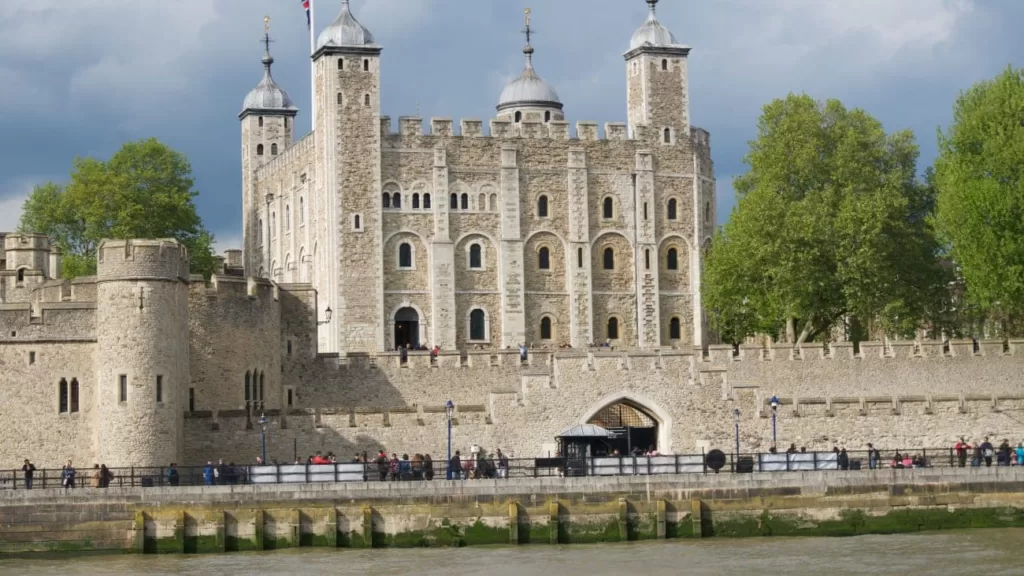 On a rainy day in London, when outdoor plans might seem dampened, there's one place that promises an exciting and memorable indoor adventure for families: the Tower of London!
Steeped in history and legends, the Tower of London offers a thrilling and immersive experience that will keep both teenagers and parents engaged. With its towering walls and fascinating architecture, the castle provides a sheltered haven from the rain, making it the perfect destination for an indoor escape.
Inside the castle, your family can explore a treasure trove of historical exhibits and artifacts. From the dazzling crown jewels to ancient suits of armor, the Tower of London houses a priceless collection that transports visitors back in time. Raindrops on the windows create a cozy ambiance as you and your teenagers uncover the stories of kings, queens, and daring knights.
The Tower of London is not just a museum; it's a living history lesson. Throughout the castle, costumed reenactors bring history to life with interactive performances and entertaining tales of medieval life. Your teens will be engrossed in the drama and intrigue as they witness historical characters come to life before their eyes.
For the adventurous souls, the Tower's infamous ravens are a must-see! Despite the rain, these majestic birds add a touch of mystique to the castle grounds. Your teenagers will be fascinated by the legend that says the Tower will fall if the ravens ever leave, and they might even try to spot all seven of these legendary birds.
The Tower of London provides plenty of indoor spaces to explore. From the White Tower's chambers to the Medieval Palace's halls, visitors will be engrossed in the castle's labyrinth of history and mysteries. With its rich history, interactive exhibits, and captivating stories, the Tower promises a day filled with excitement and wonder for all the family.
5. Churchill War Rooms
If you're looking for a thrilling and immersive experience that brings history to life, a visit to the Churchill War Rooms in London is an absolute must.
Step back in time to the heart of World War II and delve into the secret underground bunker that served as Prime Minister Winston Churchill's command center. The Churchill War Rooms offer a unique opportunity to walk in the footsteps of the iconic leader and witness the intense atmosphere of wartime Britain.
For teenagers with a passion for history, the Churchill War Rooms provide an unparalleled journey into the past. Explore the maze of hidden rooms, corridors, and chambers that once buzzed with military strategy and decision-making. Rain or shine, this underground fortress offers an exciting and educational adventure for curious minds.
The interactive exhibits and immersive displays at the Churchill War Rooms make history come alive in a thrilling way. Your teenagers can learn about the strategies and challenges faced during the war through multimedia presentations, audio guides, and authentic artifacts. They'll gain a deeper understanding of the historic events that shaped the world.
For the tech-savvy teens, the museum offers cutting-edge technology and augmented reality experiences. Step into Churchill's shoes with virtual reality displays, allowing your teenagers to see the war from the perspective of the man himself. It's a chance to become a part of history and witness the critical decisions that influenced the outcome of the war.
Beyond the history, the Churchill War Rooms offer a unique atmosphere that sets it apart from traditional museums. The dimly lit corridors and underground setting create a sense of mystery and intrigue. It's an adventure that will leave your teenagers feeling like they've stepped into a top-secret world of espionage and wartime bravery.
Worried that history might sound dull to your teens? You needn't. The Churchill War Rooms are more than just a museum; they offer an immersive experience that engages all the senses. From the authentic sounds of the war to the realistic reenactments, your teenagers will be fully immersed in the drama and excitement of history.
So, history buffs and thrill-seekers alike, don't miss the opportunity to embark on a time-traveling adventure at the Churchill War Rooms. It's a fun and captivating experience that will leave your teenagers inspired and in awe of the courage and resilience of those who lived through this historic era.
6. Harrods
Located in the upmarket neighborhood of Knightsbridge, Harrods is not just a department store; it's a world-renowned shopping destination that promises an insight into how the other half live.
For teenagers with a passion for style and trends, Harrods is a fashion wonderland like no other. From high-end designer brands to unique boutiques, the store showcases a dazzling array of clothing and accessories that reflect the latest fashion trends. You and your friends can indulge in window shopping and get inspired by the cutting-edge designs and chic displays.
Worried about not being able to afford the fancy merchandise? Irrelevant! Harrods is more than just a shopping paradise; it's an experience to be savored and enjoyed. You don't need to make a purchase to appreciate the beauty of the store and the excitement of being surrounded by luxury.
The store also boasts a variety of dining options, including elegant cafes and exquisite restaurants. You and your friends can treat yourselves to a delicious meal or enjoy a classic English afternoon tea. It's a chance to savor the taste of luxury without breaking the bank.
Beyond the luxurious shopping, the store's grand architecture and opulent interiors create a majestic atmosphere that transports you to a world of elegance and sophistication. You can roam through the different departments, admiring the exquisite craftsmanship and the attention to detail in each corner.
For art and history enthusiasts, Harrods' rich history and cultural heritage make it a fascinating destination. The store has been a symbol of luxury and refinement for over a century, and its history is woven into the fabric of London's culture. You can learn about the store's legacy through guided tours and exhibitions, gaining insights into its evolution and enduring allure.
7. Dulwich Picture Gallery
Situated in the charming neighborhood of Dulwich, this hidden gem is the oldest public art gallery in England, boasting an incredible collection of masterpieces that will recharge your imagination. Rain or shine, the Dulwich Picture Gallery promises a day filled with creativity and artistic wonder.
For teenagers with a passion for art and culture, the Dulwich Picture Gallery offers a unique opportunity to immerse yourselves in the world of renowned artists. From classic masterpieces to contemporary works, the gallery houses an impressive collection that spans centuries and artistic styles. You and your friends can feast your eyes on paintings by iconic artists like Rembrandt, Van Dyck, and Gainsborough, allowing you to discover the beauty and diversity of art.
The Dulwich Picture Gallery isn't just an art museum; the gallery hosts workshops and art sessions where you can experiment with different mediums, learn new techniques, and create your own masterpieces. It's a chance to express yourself artistically and be inspired by the great artists that came before you.
Beyond the art, the Dulwich Picture Gallery offers a serene and peaceful ambiance that sets it apart from crowded tourist attractions. The beautiful gardens surrounding the gallery provide the perfect backdrop for a leisurely stroll or a moment of reflection. It's a relaxing and refreshing escape from the hustle and bustle of the city.
It may not be an obvious thing to do for a teenager in London, but like so many other art galleries, it can broaden your horizons and introduce you to new thoughts and ideas.
8. London Transport Museum
The London Transport Museum in Covent Garden is not just any museum; it's a dynamic and interactive journey through the fascinating history of London's transport system. The museum promises a day filled with fun and discovery for teenagers with a curious spirit.
For those with a love for history and innovation, the London Transport Museum offers a fascinating trip back in time. From vintage double-decker buses to iconic tube trains, the museum houses a remarkable collection of vehicles that have shaped the city's transport over the years. You and your friends can explore the evolution of transportation and learn about the technological advancements that have revolutionized how we move around London.
The London Transport Museum isn't just a museum of artifacts; it's an interactive playground that encourages hands-on exploration. You can step aboard historic buses and trains, ring the iconic bell of a vintage Routemaster, and even experience what it's like to drive a tube train through a state-of-the-art simulator. It's a chance to become a part of history and see the world of transport from a whole new perspective.
Beyond the fascinating vehicles, the London Transport Museum offers engaging and immersive exhibits that bring London's transport stories to life. From multimedia displays to interactive installations, you'll find innovative ways to learn about the city's bustling transportation network. It's a chance to see how transport connects people and communities, making London the vibrant and diverse city it is today.
Worried about the museum being too "educational" for your taste? The London Transport Museum is far from a traditional classroom experience. The engaging and playful exhibits ensure that learning is enjoyable and exciting. You and your friends can take part in quizzes, challenges, and scavenger hunts, adding a touch of friendly competition to your visit.
For photography enthusiasts and Instagram lovers, the London Transport Museum offers plenty of photo-worthy moments. The vintage vehicles, colorful posters, and vibrant displays make for the perfect backdrop for memorable snapshots with your friends.
---
Check out our other articles on things to do with teenagers in London!
The Top Things To Do With Teenagers in London
The Best Things to Do in London for Teenagers that Love Music