In this ultimate list of the top activities and things to do with teenagers in London we'll be revealing the coolest experiences in the capital aimed at older children and young adults. At the end of this article you'll also find links to even more ideas based on different themes and interests. But for now, here are our all time favourites!
1. WeJam – The Immersive Rockstar Experience
At the WeJam studio in Camden Town, you get to form your own band, and rehearse and record your favourite songs – even if you've never played a musical instrument before!
Designed for both complete beginners and also more intermediate musicians, the sixty-minute sessions are led by professionals who will guarantee you not only sound amazing but will also have tonnes of fun along the way.
Even those that have never played a single note in their life will be jamming away in less than five minutes thanks to some very clever technology. All you have to do is follow the colours on your screen which will show you where to play your instrument. It's so easy in fact, that WeJam recommends the activity for anybody over the age of 8, however, teenagers will certainly appreciate it a lot more.
Over the course of an hour, you'll get to choose from a wide range of classic pop and rock songs, and what's more everything gets recorded and sent to you after the session! If that wasn't entertaining enough, everybody also gets a score after each run-through, allowing teens to compete for the highest spot on the leaderboard.
Just entering the studio is a memorable experience in itself. Hidden behind a secret door in the basement of a guitar shop, the experience provides plenty of Instagrammable moments.
For those looking for some extra VIP treatment, you can live out the true rockstar fantasy by making your 'rider requests' at the point of booking. Inspired by celebrity diva demands, you too can ask for certain items to be waiting for you on arrival.
Click here to book now, or visit the home page to find out more.
2. God's Own Junkyard
God's Own Junkyard is a neon sign emporium and workshop in Walthamstow, London. It is a feast for the eyes, with thousands of neon signs, vintage objects, and film props on display. The space is packed with colour and creativity, and it is sure to spark the imagination of any teenager.
There are many reasons why teenagers would enjoy visiting God's Own Junkyard. First, the place is simply visually stunning. The neon signs are incredibly bright and colourful, and they create a truly immersive experience. Teenagers will love exploring the space and finding all of the hidden gems.
Second, God's Own Junkyard is a great place to take photos. The neon signs make for some amazing backdrops, and teenagers will have a lot of fun posing for pictures. They can also use the props on display to create their own unique photoshoots.
Third, God's Own Junkyard is a great place to learn about neon signs. The workshop offers tours and workshops, where teenagers can learn about the history of neon signs, how they are made, and how to care for them. This is a great opportunity for teenagers to learn about a unique art form and to see how it is used in film and advertising.
Finally, God's Own Junkyard is a great place to just hang out with friends. The space is relaxed and welcoming, and there is plenty to see and do. Teenagers can wander around the space, take photos, learn about neon signs, or just relax and enjoy the atmosphere.
If you are looking for a fun and unique place to take your teenagers, we highly recommend God's Own Junkyard. It is a place where they can let their imaginations run wild and learn about a fascinating art form.
3. Mail Rail
London's Mail Rail and Postal Museum is a fascinating place to visit for teenagers. It is a unique combination of a museum and a subterranean railway, offering a glimpse into the history of the postal service and the technology that was used to transport mail around London for over 100 years.
The Mail Rail experience is a 20-minute train ride through the tunnels, giving visitors a first-hand look at the railway that once kept the mail coursing through London 22 hours a day. The ride is narrated by former Mail Rail workers, who share their stories and insights into the history of the railway.
The Postal Museum is a great place to learn more about the history of the postal service. The museum has a variety of interactive exhibits that teach visitors about how mail was sorted and transported in the past, as well as the role that the postal service has played in society.
In addition to the Mail Rail experience and the Postal Museum, there are a number of other things to see and do at the site. Visitors can explore the Mail Rail tunnels on foot, take a guided tour, or watch a film about the history of the postal service. There is also a cafe and a gift shop on site.
Overall, London's Mail Rail and Postal Museum is a great place to visit for teenagers. It is a fun, educational, and informative place to learn about the history of the postal service and the technology that was used to transport mail around London for over 100 years.
4. Photographer's Gallery
London's Photographer's Gallery is an exceptional destination that we wholeheartedly recommend for teenagers seeking an inspiring and enriching experience. Nestled in the heart of London, this iconic gallery is an ode to the art of photography and offers a diverse array of exhibits and programs that cater perfectly to the interests and curiosity of young minds.
For teenagers with an eye for creativity, the Photographer's Gallery is an absolute goldmine. The gallery regularly hosts exhibitions featuring renowned photographers from all over the world, showcasing their masterpieces and shedding light on various themes, styles, and techniques. From contemporary art to historical collections, every visit offers a chance to discover the power of visual storytelling. This exposure to different forms of photography can inspire young visitors to experiment with their own photography, whether they are beginners or aspiring professionals.
Beyond the breathtaking exhibitions, the gallery actively engages teenagers through interactive workshops and educational programs. These hands-on activities provide an excellent opportunity for young enthusiasts to learn from industry experts, refine their skills, and gain insights into the world of photography. Whether it's learning about composition, lighting, or post-processing, these workshops foster a deeper understanding of the art form and offer valuable guidance for those looking to take their passion for photography to the next level.
Furthermore, the gallery's central location in London provides teenagers with the added advantage of exploring the city's diverse cultural offerings. London's Photographer's Gallery is an unmissable destination for teenagers eager to delve into the world of photography. With its captivating exhibitions, engaging workshops, and a nurturing creative community, the gallery promises an unforgettable experience. So, whether you are an aspiring photographer or simply seeking artistic inspiration, a visit to the Photographer's Gallery is sure to be a rewarding and enjoyable experience for any teenager.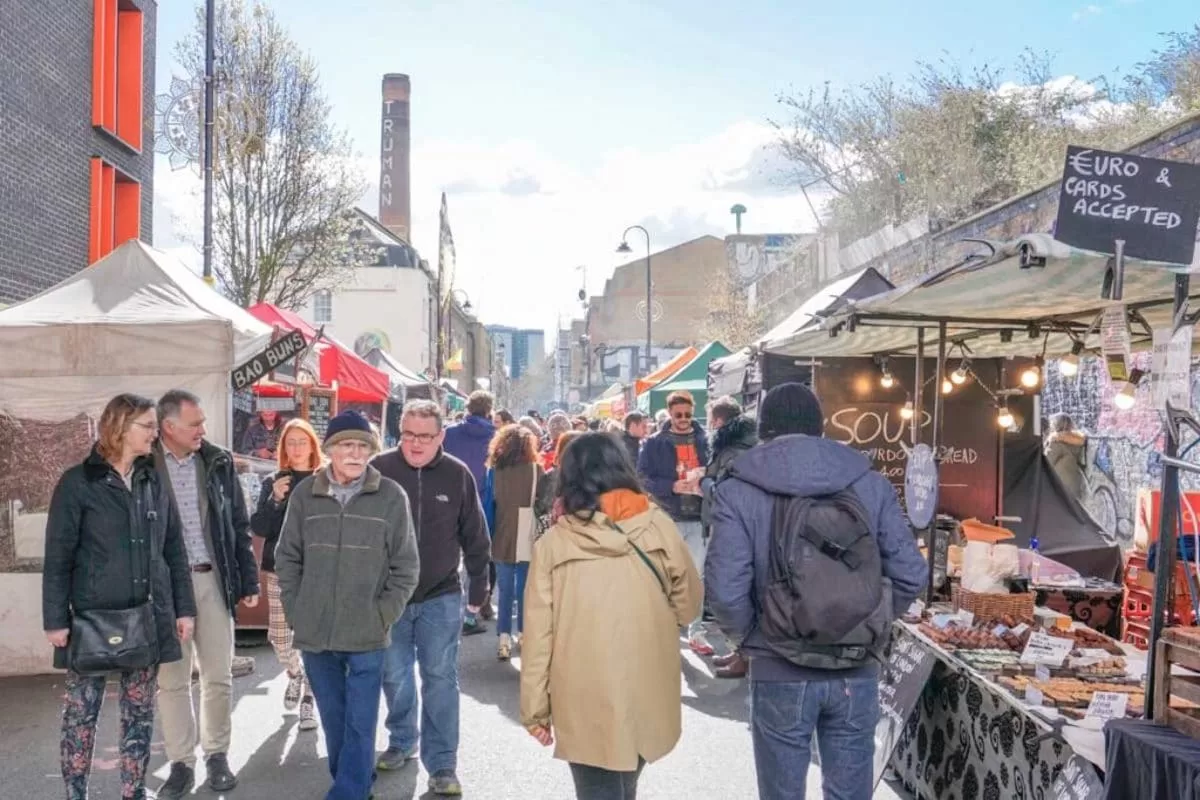 5. Brick Lane Market
Brick Lane Market in London is an exciting destination that every teenager should experience. Located in the vibrant East London neighborhood, this market offers an unforgettable day filled with fashion, food, art, and cultural diversity.
Fashion enthusiasts will be delighted by the fashion-forward finds at Brick Lane Market. With an impressive range of vintage gems and cutting-edge streetwear, this market is a treasure trove for unique style seekers. Whether you're into retro chic, urban cool, or boho vibes, there's something to make you stand out from the crowd.
For foodies and flavour fanatics, Brick Lane Market is a dream come true. The market boasts an incredible array of international cuisines, from sizzling street food to mouthwatering desserts. Embark on a delicious gastronomic adventure around the world with your food-loving friends and indulge in a feast you won't forget.
Art lovers will find themselves in paradise as they explore the artsy side of Brick Lane Market. The market is home to galleries, street art, and artisanal crafts that celebrate creativity in every form. Discover emerging artists, admire eye-catching murals, and explore unique handmade creations that add a touch of artistic flair to life.
For teenagers in need of a cool place to hang out, Brick Lane has got you covered. The market offers an array of quirky cafes, hip bars, and cozy spots to relax and soak up the vibrant atmosphere. Plus, catch live music performances that will get you grooving to the beat and create memories to cherish.
Thrift shopping enthusiasts will rejoice at Brick Lane Market's offerings. Score unique vintage pieces, one-of-a-kind accessories, and pre-loved treasures without breaking the bank. Embrace your inner fashionista and put together killer looks that are not only stylish but sustainable too.
The market's diverse and inclusive spirit is a testament to London's multicultural identity. Embrace the mix of cultures, languages, and traditions that come together in this vibrant space. It's a chance to broaden your horizons, make new friends, and experience the richness of global unity right in the heart of London.
6. Cinema Museum
London's Cinema Museum is a hidden gem that promises teenagers an extraordinary journey into the magical world of cinema. Located in South London, this museum is a haven for movie buffs and creative souls alike.
Upon stepping inside, teenagers will find themselves immersed in a treasure trove of cinematic history. The museum boasts an impressive collection of artifacts, memorabilia, and vintage equipment that offers a glimpse into the evolution of the silver screen. From iconic movie posters to vintage projectors, every corner of the museum sparks curiosity and ignites the imagination.
For aspiring filmmakers and film enthusiasts, the Cinema Museum offers an unparalleled opportunity to learn about the art and craft of cinema. The museum hosts workshops, film screenings, and interactive exhibits that delve into the behind-the-scenes magic of filmmaking. Teenagers can explore the intricacies of scriptwriting, cinematography, and editing, gaining insights from industry professionals and honing their own storytelling skills.
The museum's passionate staff creates a warm and welcoming atmosphere, making teenagers feel at home as they explore the cinematic wonders. Knowledgeable guides are on hand to share fascinating anecdotes and behind-the-scenes stories, adding a personal touch to the experience.
Beyond the museum's walls, the surrounding neighborhood of Kennington adds to the charm of the visit. Teenagers can take a leisurely stroll through the area, soak in its historical significance, and discover quaint cafes and bookshops. It's an ideal opportunity to make a day of it and explore the vibrant culture of London.
In conclusion, London's Cinema Museum is a must-visit destination for teenagers seeking an enchanting and educational experience. From cinematic history to practical filmmaking insights, the museum offers a holistic and captivating journey into the world of cinema. So, grab your popcorn, invite your fellow movie lovers, and embark on a cinematic adventure that will leave you inspired and brimming with creativity. The magic of the silver screen awaits!
7. Novelty Automation
London's Novelty Automation is an offbeat and quirky destination that promises teenagers an unforgettable experience like no other. Tucked away in the heart of Covent Garden, this one-of-a-kind amusement arcade is a delightful fusion of art, engineering, and humor that will leave teenagers in awe.
As soon as teenagers step into Novelty Automation, they are greeted by a mesmerizing array of handcrafted machines and interactive exhibits. From the weird and wacky to the wonderfully bizarre, each creation is a work of art that defies expectations. It's a world where the boundaries of imagination are pushed to the limit, and laughter is the order of the day.
The arcade's unique creations are the brainchild of Tim Hunkin, a renowned engineer and cartoonist. His witty and satirical machines are a testament to his playful spirit and inventive mind. As teenagers navigate through the arcade, they'll encounter quirky characters, unexpected surprises, and challenges that will put their senses to the test.
Novelty Automation offers teenagers a chance to indulge in some good old-fashioned fun with a modern twist. The machines are interactive and encourage visitors to participate actively. From hilarious photo booths that capture funny moments to quirky games that challenge skill and wit, there's something for everyone to enjoy.
Beyond the laughter and amusement, Novelty Automation has an educational aspect as well. The arcade is a fascinating demonstration of the blend of art and engineering. Teenagers can witness the ingenuity and craftsmanship that goes into building these delightful contraptions, inspiring curiosity and creativity in the process.
After a day of exploration and laughter, teenagers can explore the vibrant neighborhood of Covent Garden. From street performers and boutique shops to charming cafes, there's plenty to see and do to round off the visit.
In conclusion, London's Novelty Automation is a must-visit destination for teenagers seeking an unconventional and laughter-filled adventure. With its handcrafted machines, interactive exhibits, and unique charm, the arcade offers a refreshing break from the ordinary. So, gather your friends, prepare for an immersive experience, and get ready to let loose in a world of wonder and amusement. Novelty Automation guarantees an extraordinary day that will be etched in your memory forever.
8. Leake Street Tunnels
London's Leake Street Tunnels, also known as the "Banksy Tunnel," is a must-visit destination that promises teenagers an urban and artistic adventure like no other. Located just below Waterloo Station, this hidden gem is a vibrant showcase of street art and creative expression.
As soon as teenagers step foot into the tunnels, they are immersed in a visual feast of graffiti and street art that stretches along the walls from end to end. This dynamic canvas is an ever-changing exhibition, as new artists constantly add their unique creations, resulting in a dynamic and living art gallery that reflects the pulse of the city's underground culture.
The highlight of the Leake Street Tunnels is undoubtedly the work of renowned street artist Banksy. His distinctive and thought-provoking murals adorn the tunnel walls, leaving a profound impact on visitors. Teenagers will have the opportunity to witness firsthand the power of street art as a medium of social and political commentary.
Beyond Banksy's pieces, the tunnels are a celebration of diversity and individual expression. Artists from different backgrounds, styles, and experiences come together to leave their mark on this urban canvas. It's a true testament to the free-spirited and unapologetic nature of street art.
For teenagers with a passion for photography and social media, Leake Street Tunnels is a paradise for capturing Instagram-worthy shots. Every corner offers a perfect backdrop for edgy and creative selfies, making it a popular spot for influencers and creative content creators.
Leake Street Tunnels is not just a static destination; it's a living and evolving urban art experience. Every visit offers something new to discover, making it an ideal spot for multiple trips and exploration. The ever-changing landscape ensures that each visit feels fresh and exciting.
After immersing themselves in the vibrant world of street art, teenagers can easily explore the surrounding South Bank area. With its cultural landmarks, picturesque views of the Thames, and bustling entertainment options, it's the perfect way to round off a day of urban exploration.