London is the ultimate haven for music fanatics, and for teenagers with an interest in music, there is no shortage of things to see and do. The city is legendary throughout the world, with epic bands like The Rolling Stones and Queen born right here. Iconic spots like the Roundhouse and 100 Club have hosted the wildest rock and pop gigs ever. Meanwhile, Camden's edgy scene and Soho's electric vibe are where the magic happens. London's streets rock to the beat of our favorite tunes, and there's a wide range of activities on offer for music-loving teenagers. Here are some of our favourites…
1. WeJam – The Immersive Rockstar Experience
For music-loving teenagers, the WeJam studio in Camden Town is hands down the best experience for families and teens in London. Imagine forming your very own band, regardless of whether you've ever touched a musical instrument before! These sixty-minute sessions cater to both beginners and intermediate musicians, led by talented professionals ensuring you not only sound incredible but have a blast throughout.
Even if you've never played a single note in your life, fear not! WeJam has ingeniously incorporated technology that allows you to start jamming within five minutes. Just follow the color-coded instructions on your screen, indicating where to play your instrument. It's so easy that WeJam recommends it for anyone over 8 years old, but trust us, teenagers love it even more.
Get ready to immerse yourself in a diverse selection of classic pop and rock songs, and here's the best part – everything you play gets recorded and sent to you afterward! Plus, after each performance, you'll receive a score, igniting a friendly competition for the top spot on the leaderboard among teens.
Beyond the music experience, just entering the WeJam studio is an adventure in itself. Tucked away behind a secret door in a guitar shop basement, the studio offers plenty of Instagram-worthy moments for you to share.
For those looking to add some VIP treatment to their musical journey, live out your rockstar fantasy by making your 'rider requests' at the time of booking. Just like chart-topping celebrities, you can have specific items waiting for you upon arrival.
Don't miss out on this amazing opportunity! Click here to book your session now or visit the home page to find out more about this incredible activity tailored to teenage music enthusiasts.
2. Visit Carnaby Street
Attention all music-loving teenagers! If you're seeking a hip and happening destination that pulsates with musical vibes, look no further than London's iconic Carnaby Street. Nestled in the heart of Soho, this vibrant and trendy hub is a must-visit for anyone with a passion for music and an appetite for cool experiences.
Carnaby Street has a long and legendary history as a center of music and fashion. Back in the 1960s, it was THE place to be for the swinging London scene, attracting the likes of The Beatles and The Rolling Stones. Today, it remains an ever-evolving hotspot that embraces its musical roots while staying on the cutting edge of contemporary music trends.
For starters, Carnaby Street is home to some of the most iconic record stores in London. Music enthusiasts will rejoice at the sight of places like Rough Trade, where you can immerse yourself in an extensive collection of vinyl records from both established artists and rising stars. Flipping through those vinyl stacks is a thrill that digital streaming just can't match.
Now, let's talk about the shopping scene – because Carnaby Street is not only about music but also about fashion. Trendsetting boutiques and flagship stores of famous brands line the streets, offering a plethora of edgy and stylish clothing that complements the musical vibes. Get ready to up your fashion game and rock those music-inspired looks.
Carnaby Street is also a hub for various events and festivals throughout the year. From music festivals to pop-up gigs, there's always something exciting happening in this dynamic neighborhood. You might even stumble upon street performances or buskers adding their beats to the atmosphere.
And of course, don't forget about the delicious food options. The vibrant street is dotted with cafes, restaurants, and food trucks that cater to every taste. Grab a bite to eat, chill with your friends, and soak in the lively ambiance.
3. Abbey Road Studios
If your teens are passionate about music and eager to dive into the rich history of legendary bands, then a tour of Abbey Road Studios in London is an absolute must!
Abbey Road Studios holds a special place in music history as the birthplace of countless iconic albums and the creative hub for legendary bands like The Beatles. Stepping foot into this hallowed ground is like walking into a musical wonderland that will leave your teenagers inspired and in awe.
The tour offers a unique and immersive experience that takes visitors behind the scenes of the music-making process. Your teenagers will get to explore the very rooms where music magic has happened. From the legendary Studio 2, where The Beatles recorded their biggest hits, to Studio 3, where contemporary artists continue to create chart-toppers, the studio is a treasure trove of musical memories.
A knowledgeable guide will lead your teens through the studios, sharing fascinating stories and insider information about the recording sessions, the artists, and the equipment used. It's a fantastic opportunity for young music enthusiasts to gain insight into the art of music production and the evolution of recording technology.
But that's not all. One of the highlights of the tour is the chance for your teenagers to recreate that famous Abbey Road album cover. They can walk in the footsteps of The Beatles, crossing the zebra crossing outside the studio, capturing a timeless photo they'll want to share with friends.
Abbey Road Studios also offers interactive exhibits, where your teenagers can play around with musical instruments and mix their own tracks. It's an excellent way for them to get hands-on experience and unleash their creative talents.
The experience doesn't end with the tour. The on-site gift shop is a treasure trove of music-related goodies, from memorabilia to vinyl records of classic albums. It's the perfect place to pick up a memento of this unforgettable journey through music history.
Not only will your teenagers be inspired by the incredible musical heritage of Abbey Road Studios, but they'll also gain a deeper appreciation for the artistry behind their favorite songs. The tour is a chance for them to connect with the past, present, and future of music in a way that few other places can offer.
4. Wilton's Music Hall
Wilton's Music Hall is a hidden gem, a true historic treasure tucked away in the heart of London's East End. Stepping into this enchanting venue is like stepping back in time, as it's the oldest surviving music hall in the world!
The hall's rich history dates back to the 1850s, and it has witnessed performances by some of the greatest artists and musicians of its time. Now, it continues to be a haven for music enthusiasts of all ages, offering a wide range of events that cater to diverse musical tastes.
For teenagers, a visit to Wilton's Music Hall will be an inspiring and eye-opening experience. The stunning architecture and Victorian charm create an ambiance that is truly magical. From the moment they walk through the doors, they'll be transported to a bygone era, a time when music was at the heart of entertainment.
The venue hosts an array of concerts and live performances that cover a wide spectrum of genres – from folk and jazz to indie and rock. Your teens will have the opportunity to immerse themselves in a live music experience like no other. It's a chance for them to discover new sounds, broaden their musical horizons, and perhaps even find their next favorite artist.
What's more, Wilton's Music Hall often offers workshops and educational events, providing young music enthusiasts with valuable insights into the world of performance, production, and the arts. These interactive experiences can be incredibly enriching for teenagers with a passion for music.
Beyond the music, Wilton's Music Hall also houses a charming bar and restaurant, perfect for a pre-show meal or post-performance discussion.
5. The Horniman Museum
If your kids have an insatiable passion for music and a curious spirit, then a visit to the Horniman Museum in London is an absolute must for an enriching and melodious experience!
The Horniman Museum offers a delightful fusion of culture, history, and music, all in one extraordinary place. Situated in the trendy Forest Hill neighborhood, this captivating museum houses an exceptional collection of musical instruments from across the globe, making it a perfect destination for young music enthusiasts.
For your teenagers, the museum's music gallery will be a true paradise. They'll get to explore a fascinating array of instruments from various cultures and time periods. From African drums to Asian string instruments, the collection offers a unique opportunity for your kids to discover the diverse sounds and rhythms that have shaped music throughout history.
What's more, the Horniman Museum regularly hosts live music performances and interactive workshops. This means that your teenagers can not only see the instruments on display but also hear them come to life in the hands of talented musicians. It's an experience that will ignite their imagination and leave them with a deeper appreciation for the power of music to transcend borders and connect people from different backgrounds.
Apart from music, the museum's vibrant exhibits on natural history, anthropology, and world cultures provide a well-rounded learning experience. It's a fantastic opportunity for your teens to explore various subjects and spark their intellectual curiosity.
Also, don't miss the museum's beautiful gardens! A stroll through these serene landscapes offers a perfect moment for your family to unwind and discuss the exciting things you've discovered inside. The gardens often host outdoor music events during the summer, creating a lively atmosphere that complements the museum's musical theme.
6. Ronnie Scott's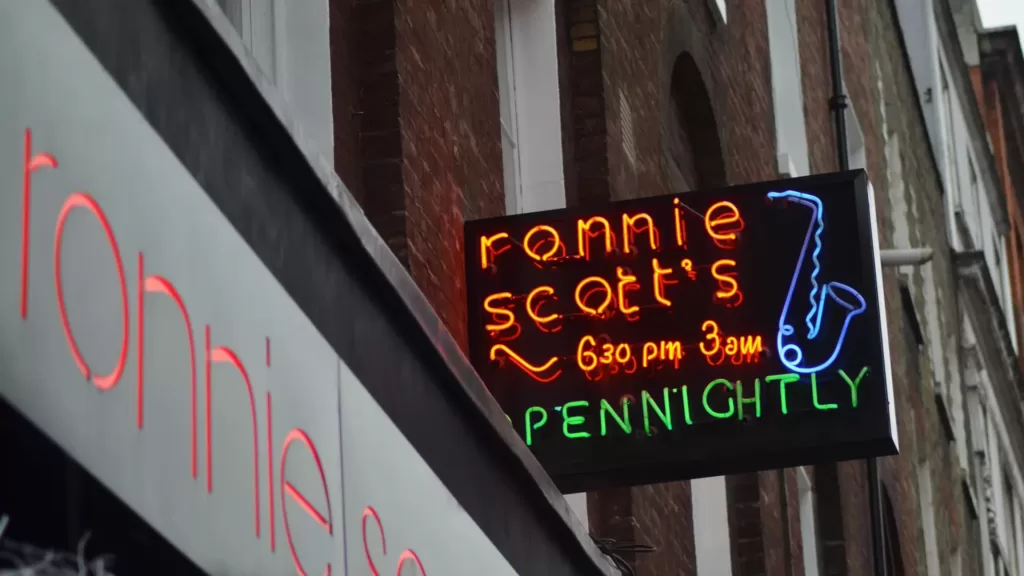 Ronnie Scott's is not just any jazz venue; it's a legendary institution with a rich history that stretches back to 1959. Founded by the iconic saxophonist Ronnie Scott, the club quickly became a haven for jazz enthusiasts and a magnet for top-notch live performances.
Situated in the heart of Soho, this iconic club exudes an electric atmosphere, making it the perfect destination for young music enthusiasts eager to explore the world of jazz. The club has been a launchpad for some of the greatest jazz artists of all time, and witnessing a performance at Ronnie Scott's is like stepping into a time capsule of musical greatness.
For your teenagers, a night at Ronnie Scott's is a gateway to a world of soulful melodies and captivating rhythms. They'll be immersed in the timeless allure of jazz music, a genre that has shaped the course of music history and continues to inspire artists to this day.
The club's intimate setting allows your teens to feel up close and personal with the performers, a unique experience that sets Ronnie Scott's apart from larger venues. From passionate saxophone solos to dazzling piano performances, the artists who grace the Ronnie Scott's stage never fail to leave a lasting impression.
As parents, you can rest assured that Ronnie Scott's is a safe and welcoming environment for teenagers. The club maintains a friendly and inclusive atmosphere, where music lovers of all ages can come together to share in the joy of live music.
Ronnie Scott's commitment to nurturing young talent is truly commendable. The club also hosts workshops and masterclasses that provide aspiring young musicians with unique opportunities to learn from seasoned professionals. These educational initiatives can be incredibly inspiring for teenagers with dreams of pursuing a career in music.
7. Royal Opera House
The Royal Opera House is a world-renowned cultural landmark, steeped in history and artistic brilliance. Located in the heart of Covent Garden, this iconic venue is not just a place for opera; it also hosts breathtaking ballet performances and captivating live concerts, making it the perfect destination for young music enthusiasts.
For your teenagers, a night at the Royal Opera House is like stepping into a fairytale of music and dance. They'll be enthralled by the sheer talent and artistry displayed on stage, as world-class musicians, singers, and dancers come together to create awe-inspiring performances.
Whether it's the powerful vocals of an opera singer or the graceful movements of ballet dancers, the Royal Opera House offers a diverse range of productions that cater to different musical tastes. It's a chance for your teens to immerse themselves in the magic of live performances and be transported to a world of emotion and creativity.
Beyond the performances, the Royal Opera House offers backstage tours that provide a fascinating peek behind the curtain. Your teenagers can explore the inner workings of this historic venue, from the elaborate sets and costumes to the state-of-the-art production facilities. It's an educational and eye-opening experience that gives insight into the world of professional performing arts.
Worried about the logistics? Fear not! The Royal Opera House is committed to making performances accessible for all ages, and they often offer discounted tickets and family-friendly events. They even have pre-performance talks and workshops, so your teens can gain a deeper understanding of the production before the show begins.
By taking your teenagers to the Royal Opera House, you'll be giving them a chance to experience the magic of live music and dance in a world-class setting. It's a journey that will ignite their passion for the performing arts and leave a lasting impact on their artistic journey.
8. The Musical Museum
The Musical Museum is a lesser-known London attraction, a treasure trove of musical wonders waiting to be explored. Situated in picturesque Kew, this unique museum is dedicated to showcasing the fascinating world of mechanical musical instruments.
For your teenagers, the Musical Museum offers a captivating journey through the history of music and the evolution of instruments. From player pianos to enchanting musical boxes, the collection offers a rare opportunity for your kids to see and hear these ingenious machines come to life.
The museum hosts live demonstrations of these mechanical marvels, where your teens can witness firsthand how these instruments produce beautiful melodies without the need for electricity. It's a mesmerizing experience that will ignite their imagination and leave them with a deeper appreciation for the artistry behind music.
The Musical Museum also often features special exhibitions and interactive displays, providing young music enthusiasts with a hands-on experience. Your teenagers can try their hand at playing some of the instruments or learn how to compose their own melodies. It's an excellent way to nurture their creativity and inspire a lifelong love for music.
The museum's knowledgeable guides are passionate about music and history, and they love sharing their expertise with visitors. They'll be on hand to answer any questions your teens may have and provide fascinating insights into the instruments on display.
Beyond the exhibits, the Musical Museum hosts regular concerts and events that showcase talented musicians performing on the museum's historic instruments. It's a chance for your teenagers to hear live music in a unique and intimate setting, creating a memorable experience they won't soon forget.
The museum's commitment to education and engagement makes it an ideal destination for teenagers. It's not just a place to observe; it's a place where your teens can actively participate in their learning journey and explore their passion for music.
---
Check out our main post for ideas, activities, and things to do with teenagers in London: