Entertaining the younger members of the family needn't mean sacrificing your own fun! Here are some of the coolest things to do with teenagers in London that are genuinely brilliant for all involved. Don't take yourself too seriously and bring out your inner big kid with these top-rated activities…
1. WeJam – The Immersive Rockstar Experience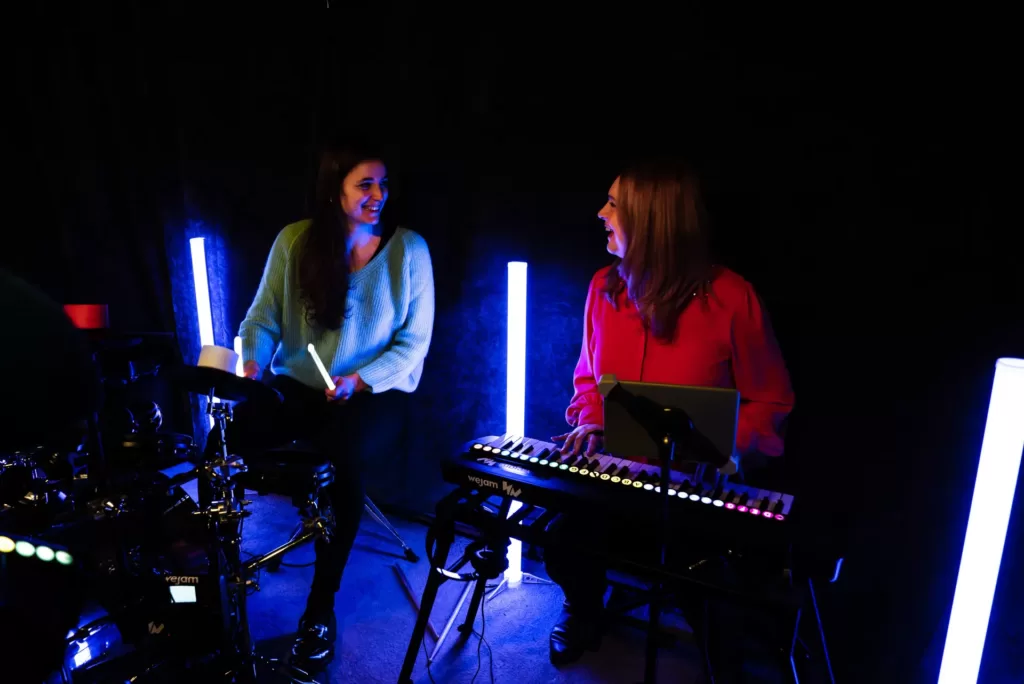 Easily number one on any parent's list should be WeJam. The immersive rockstar experience located in Camden Town is a truly one-of-a-kind activity where regardless of any previous musical experience, everybody involved gets to start their own band and actually sound good!
In the space of an hour, you and your bandmates (teenagers) will be guided by a professional musician to rehearse and record your favourite pop and rock songs. Frequently described as a real-life version of Guitar Hero, those that have never played an instrument before simply need to play one note at a time, and the clever technology will fill in the missing chords, riffs, and beats. It also doesn't matter if you can't read music, as the screen in front of you will show which keys to play using an incredibly easy-to-follow colour-coded system.
Prepare for a memorable journey through a diverse selection of tunes, from the 60s to the present day. To enhance the fun even further, after each runthrough everyone in the band is given a score, meaning you can compete with your family members! Who's going to develop headliner potential, and which one of you will be a one-hit wonder?
Beyond the musical experience, stepping into the WeJam studio is an adventure in itself. Hidden behind a secret door disguised as a guitar amp, the studio's funky neon lighting offers a great backdrop for some great photos.
For those seeking a VIP touch to their musical journey, embrace your inner rockstar by making 'rider requests' at the time of booking. Just like chart-topping celebrities, you can have specific items waiting for you upon arrival. Fancy a giant inflatable or a specific flavour of Hubba Bubba? No problem!
Book your session now by clicking here or visit the home page to learn more about this incredible activity tailored to teenage music enthusiasts and their parents.
2. Portobello Road Market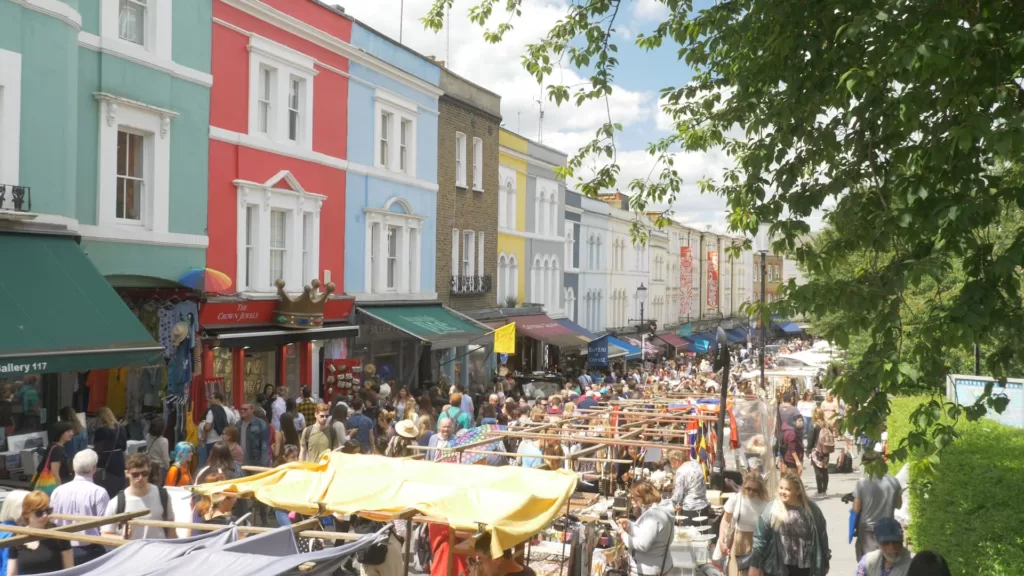 For a colourful experience that both teenagers and their parents will enjoy, Portobello Road Market in London is an absolute must-visit destination. Nestled in the charming Notting Hill neighborhood, this iconic market offers a diverse array of attractions that cater to different tastes and interests, making it an ideal outing for the entire family.
One of the primary reasons why Portobello Road Market is perfect for families is its eclectic shopping experience. The market stretches over a mile, featuring an impressive variety of stalls selling everything from vintage clothing and antiques to unique crafts and artisanal goods. Teenagers can indulge in their passion for fashion by exploring the retro clothing options, while parents can revel in the nostalgic charm of antique finds. This bustling marketplace has something for everyone.
Moreover, Portobello Road Market is a true gastronomic haven. Families can relish the diverse culinary delights offered by numerous food vendors and charming eateries scattered throughout the area. From delectable street food to international cuisines, the market promises a flavourful adventure that will satisfy even the pickiest of eaters. Parents can savour gourmet treats while teenagers can discover new and exotic flavors, expanding their culinary horizons together.
The vibrant atmosphere of Portobello Road Market is enhanced by its lively street performers and musicians. Families can enjoy raucous performances as they stroll through the market, adding an element of entertainment and fun to the outing.
For history enthusiasts, Portobello Road Market offers a glimpse into the past through its antique stalls. The market's rich history and its connection to London's heritage provide an educational aspect that appeals to both generations.
Portobello Road Market stands out as a good option for both teenagers and their parents in London. With its eclectic stallholders, tasty food options, lively entertainment, and rich history, it offers an interesting blend of excitement, exploration, and togetherness. Whether you're seeking a unique shopping spree, a culinary adventure, or a memorable family outing, Portobello Road Market has it all, making it a vibrant gem in the heart of London that promises something special for everyone in the family.
3. Hampton Court Palace
A classic highlight for any London itinerary, Hampton Court Palace is a gem that promises an unforgettable experience for both teenagers and their parents. Steeped in history and grandeur, this majestic palace offers a unique mix of architectural marvels, lush gardens, and intriguing tales from the past.
History comes alive as you step into the world of Hampton Court Palace, a place that has witnessed the reigns of legendary monarchs like Henry VIII and William III. The palace's origins date back to Cardinal Wolsey, who began constructing it in the early 16th century. However, when King Henry VIII took a liking to the opulent residence, Wolsey gifted it to the king, thus beginning its transformation into the grand royal palace we know today.
Teenagers and parents alike will be awe-struck by the splendid Tudor architecture, with its intricate red-bricked façade and imposing gatehouse. A stroll through the Great Hall, adorned with impressive tapestries and a grand hammer-beam roof, offers a glimpse into the lavish banquets and ceremonies hosted by Henry VIII himself.
One of the palace's most renowned features is of course the Hampton Court Palace Maze, a labyrinth that has challenged visitors for centuries. Families can embark on a tricky journey through the maze, testing their navigation skills and enjoying the challenge together.
Those into history will be fascinated by the stories that echo within the walls here. The palace played a significant role in the dramatic events of Tudor history, from the tempestuous marriages of Henry VIII to the ghostly legends of Catherine Howard, Henry's fifth wife, said to haunt the Haunted Gallery to this day.
The gardens of Hampton Court Palace are an additional point of interest. The majestic Privy Garden and the tranquil Pond Gardens are perfect spots for families to relax and take in the scenic views. In the summer months, the world-famous Hampton Court Palace Flower Show draws visitors from all over the globe, showcasing stunning floral displays and innovative garden designs.
4. The BFI
The British Film Institute (BFI) stands as a cinematic wonderland. Renowned as the leading organization for film and television in the UK, the BFI boasts a rich history and a diverse range of activities that cater to the interests of all ages.
The BFI's roots trace back to 1933 when it was established as the BFI National Archive, dedicated to preserving and showcasing the nation's film heritage. Over the years, it has evolved into a dynamic cultural hub that celebrates the magic of cinema in all its forms. Today, the BFI continues to champion the art of film, from classic masterpieces to cutting-edge productions, making it a compelling destination for families seeking an immersive cinematic experience.
Teenagers and parents will enjoy the diverse program of films screened at the BFI. From family-friendly classics to thought-provoking documentaries, the institute curates an array of films that cater to different tastes and interests. It's an opportunity for families to discover timeless cinematic gems together or explore contemporary works that spark discussions and ignite imaginations.
For aspiring filmmakers in the family, the BFI provides a plethora of opportunities to nurture their creative talents. The BFI Future Film Festival, an annual event, serves as a platform for young filmmakers to showcase their work, attend workshops, and connect with industry professionals. Teenagers can participate in hands-on workshops and gain insights into the world of filmmaking, inspiring them to explore their passion for the seventh art.
The BFI Southbank, the institute's flagship venue, houses multiple screens, a media library, and a film store that stocks rare DVDs and memorabilia. Families can spend hours exploring the collection and finding cinematic treasures to take home as souvenirs. For film enthusiasts, this is an absolute paradise of movie memorabilia and knowledge.
One of the highlights of the BFI is the Mediatheque, a unique digital jukebox that provides access to a vast collection of films, TV shows, and documentaries from the BFI National Archive.
Beyond the screenings and exhibitions, the BFI boasts a charming riverside location with lovely views of the Thames and the London skyline. After visiting, families can enjoy a leisurely stroll along the South Bank, which has plenty else going on.
5. Speakers' Corner
In the middle of Hyde Park, Speakers' Corner stands as a unique and iconic destination that offers an engaging and thought-provoking experience for both teenagers and their parents. Renowned for its long-standing tradition of free speech and open discourse, Speakers' Corner has been a hub for public speakers, activists, and impassioned individuals for over a century.
The history of Speakers' Corner dates back to the mid-19th century when public demonstrations and protests were restricted in the park. However, in 1872, an act of Parliament designated an area near Marble Arch as a space for public speaking and debate, officially establishing Speakers' Corner as a platform for free expression.
Today, the site continues to embrace its tradition of free speech, inviting individuals from all walks of life to share their views and opinions on a wide range of topics. Families visiting Speakers' Corner can witness a diverse array of speakers discussing politics, religion, social issues, and more. It's an opportunity for teenagers to engage in civil discourse and witness the power of open dialogue in shaping society.
For parents, Speakers' Corner offers a glimpse into London's rich history of activism and social change. The site has witnessed numerous influential speakers and movements over the years, including suffragettes advocating for women's rights and protests against wars and injustices. It's a chance for families to connect with the city's past and gain a deeper understanding of the role public discourse plays in shaping communities.
Speakers' Corner also serves as an educational platform for teenagers to develop critical thinking and communication skills. Listening to various viewpoints and engaging in discussions with speakers and other spectators fosters a sense of tolerance, empathy, and respect for diverse perspectives. These lessons in active citizenship and democratic values are invaluable for teenagers as they navigate the complexities of the modern world.
The vibrant and inclusive atmosphere of Speakers' Corner creates a sense of community and camaraderie among attendees. Families can strike up conversations with people from different backgrounds, forging connections that transcend age, ethnicity, and beliefs. It's a reminder that, despite our differences, we can come together to discuss and debate ideas in a respectful and constructive manner.
Beyond its historical and educational significance, Speakers' Corner is a living testament to the freedom of expression and the spirit of democracy. Families can witness the power of words as speakers articulate their thoughts and opinions passionately. For teenagers with an interest in public speaking or advocacy, the experience can be both inspiring and empowering.
There's also a good chance you'll meet some nutjobs.
6. National Portrait Gallery
Situated in the cultural heart of London, the National Portrait Gallery stands as an exceptional destination that beckons both teenagers and their parents. This iconic institution is a treasure trove of captivating portraits that offer an immersive and insightful journey through the lives and stories of historical figures and influential personalities from diverse backgrounds.
The National Portrait Gallery was founded in 1856 and has since become one of the most distinguished portrait galleries in the world. Its collection spans over 600 years of British history, showcasing portraits of monarchs, statesmen, writers, artists, and everyday people who have shaped the nation's narrative.
For history buffs, the gallery is a veritable time capsule, housing portraits of iconic figures like Queen Elizabeth I, William Shakespeare, and Sir Isaac Newton. The gallery also celebrates individuals who have made significant contributions to various fields. From renowned scientists and explorers to groundbreaking artists and activists, the portraits on display serve as a testament to the diversity of human achievement and the power of individual expression.
Beyond the historical significance, the National Portrait Gallery is a celebration of artistic brilliance. Families can explore a diverse range of artistic styles, from classic oil paintings to contemporary photographs, showcasing the evolution of portraiture over the centuries. For teenagers with an interest in art or aspiring artists, the gallery offers an invaluable opportunity to study and appreciate different techniques and expressions.
A highlight of the gallery is its annual BP Portrait Award exhibition, which features contemporary portraits by artists from around the world. This dynamic display of talent sparks conversations about contemporary society, culture, and identity. The gallery is more than just a repository of paintings; it's a place of storytelling and discovery. The gallery's interactive displays and multimedia installations breathe life into the portraits, unveiling the stories behind the faces and revealing the connections between individuals and historical events. It's an immersive experience that encourages families to explore, question, and connect with the past and the present.
The gallery's location, just off Trafalgar Square, makes it easily accessible for families exploring other iconic landmarks in London. The surrounding cultural hub offers a myriad of dining options and entertainment venues, making it an ideal place to spend a day of exploration and enjoyment.
7. London Wetland Centre
Found in the South West of the city, the London Wetland Centre stands as a serene oasis amidst the hustle and bustle. This magnificent urban wetland reserve offers an exceptional opportunity to escape the urban chaos and connect with wildlife and lush landscapes.
The centre was created by the Wildfowl & Wetlands Trust (WWT) in 2000 on the site of a former Victorian reservoir. The project aimed to transform the area into a thriving wetland habitat for wildlife, as well as an educational and recreational space for visitors of all ages.
For families seeking an escape into nature, the London Wetland Centre offers a diverse range of birdlife and wildlife. Over 180 species of birds have been spotted in the reserve, making it a paradise for birdwatching enthusiasts. Families can delight in observing majestic swans, colorful ducks, graceful herons, and other fascinating bird species in their natural habitat.
The centre's series of tranquil lakes, reed beds, and marshes are home to a variety of wildlife, including dragonflies, butterflies, and amphibians. For teenagers with an interest in ecology or biology, the Wetland Centre provides an opportunity to learn about wetland ecosystems and the importance of conservation.
The WWT, the organization behind the London Wetland Centre, is dedicated to the preservation of wetland habitats and species around the world. Families visiting the centre can learn about the important work being done by the WWT to protect wetlands and the role these ecosystems play in maintaining biodiversity.
The Wetland Centre is not only a place to observe wildlife but also a venue for exciting activities and interactive experiences. Families can take part in guided walks and wildlife talks led by knowledgeable experts who share fascinating insights into the resident birds and their migratory patterns. The interactive Adventure Zone is a hit with teenagers, offering opportunities to get hands-on with outdoor challenges and games.
For a more immersive experience, families can explore the reserve on specially designed adventure safaris. These safaris provide a unique opportunity to get up close and personal with the wetland's inhabitants and offer a chance to learn about the intricate balance of this delicate ecosystem.
The centre's observatory and hides provide perfect vantage points for birdwatching and photography, making it an ideal spot to capture beautiful moments in nature.
London Wetland Centre is a nature lover's paradise and a perfect destination for both teenagers and their parents in London. With its abundant birdlife, diverse wildlife, and picturesque landscapes, the centre offers a peaceful escape from city life.
8. The London Dungeon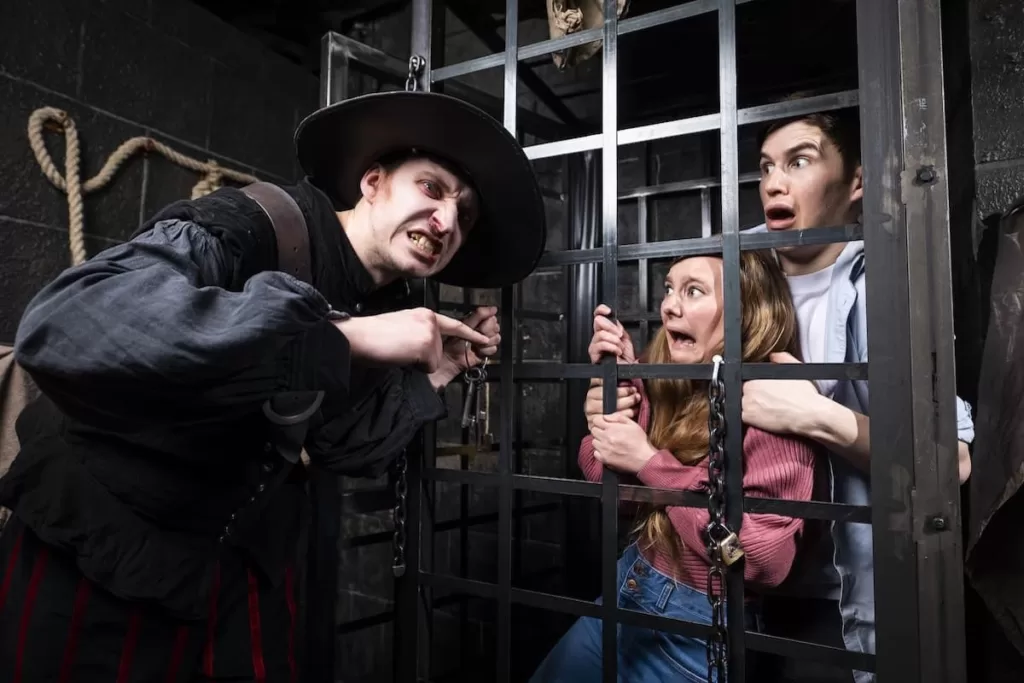 For those seeking an adrenaline-pumping adventure that blends history, theatricality, and spine-chilling tales, The London Dungeon offers an immersive experience like no other. Situated near Waterloo, this popular spot transports visitors back in time to some of London's darkest and most intriguing historical periods.
The history of The London Dungeon dates back to the 1970s when it was first opened as a macabre and theatrical museum. Over the years, it has evolved into an interactive attraction that brings to life the haunting tales of London's past. Families can expect an exciting journey that delves into the city's murky history, from the plague-ridden streets to the infamous crimes and punishments of yesteryears.
The London Dungeon is not your typical historical museum. Instead, it offers a thrilling experience that combines live actors, special effects, and sets to create an atmosphere of fear and excitement. Families will be led through a series of immersive shows and scenes that vividly depict historical events, making it a memorable outing for both teenagers and their parents.
As families descend into the depths of the dungeon, they'll encounter infamous characters from London's dark past, such as Jack the Ripper, Guy Fawkes, and Sweeney Todd, the Demon Barber of Fleet Street. The actors skillfully bring these characters to life, sharing their chilling stories and engaging visitors in the gripping narrative.
The London Dungeon is not just about fear; it also offers educational value, providing a unique way to learn about London's history. Families can gain insights into the hardships faced by Londoners during times of plague, the harsh reality of medieval justice, and the intrigue of historical conspiracies. The attraction provides a blend of entertainment and education, making history come alive in a fun and immersive manner.
For teenagers, the London Dungeon offers a chance to step into the shoes of those who lived in London's darkest eras. The interactive nature of the attraction encourages active participation, enabling teenagers to engage in the unfolding stories and experience history from a different perspective.
The sets and special effects at the London Dungeon create a sense of realism and authenticity that heightens the experience. Families will find themselves transported to the chaotic streets of London during the Great Fire or inside the eerie courtroom of the infamous Judge Turpin. The attention to detail adds to the overall excitement and makes the attraction a truly memorable experience.
The London Dungeon's location, just a stone's throw away from other popular attractions like the London Eye and the Sea Life London Aquarium, makes it a convenient addition to a day of exploration in the city. Families can combine their visit to the Dungeon with other iconic landmarks for a well-rounded and exciting day out in London.
---
For more ideas on things to do with teenagers in London, check out our ultimate guide here!