If there's anything that can make a video game better, it's the ability to play with friends and create some amazing memories while you play. Just when you thought you'd squeezed every bit of fun out of a game, you then play the same game with others, and this can improve even the most flawless of games. 
It's like music. You might listen to a song and relate to it in a way you never thought you could relate to a piece of music. Then you'll expose someone to the same piece of music, and they'll experience it in a completely different way, giving you a new perspective and a new appreciation on something you thought you'd completely absorbed and analysed. 
So, what were to happen if we combined music, games and fun experiences with friends? We'd get Multiplayer Music Making games.
Music has been an integral part of video games for many decades now, even to the point where the premise of a game can be solely based around how well you can match the beat of a song, or how well you can jam against another real-world player.
Previously at WeJam, we broke down the history of Multiplayer video games and how that has influenced multiplayer music making games and music making activities. Check that article out here. 
Today we're going to take a look at our Top 10 Multiplayer Music Making games, so let's get to it!
1. Dance Dance Revolution 
To get started, we had to pick a classic, one that (hopefully) we've all had a go at or at least watched in amazement as someone completely obliterated the dance floor. 1998's Dance Dance Revolution: This game requires players to stomp on the ground with their feet to corresponding arrows that appear on the screen in front of them. Originally from Japanese developer Konami, this game pioneered the music/rhythm games for decades to come, and DDR videos get insane attention on YouTube to this day! Although not strictly a multiplayer music making game, local co-op allowed for up to two players in a competitive Versus mode. 
2. Audiosurf 
We're fast approaching the 13th anniversary of this classic. Audiosurf put players in control of a fast-moving vehicle that tore across a retro-synth, digital landscape to collect coloured blocks that when played in sequence matched the beat of a song. A revolutionary aspect to this game at the time was the fact that you could import your own music library into the game, so you could literally play to your own soundtrack. Quite a unique feature, even for modern multiplayer music making games.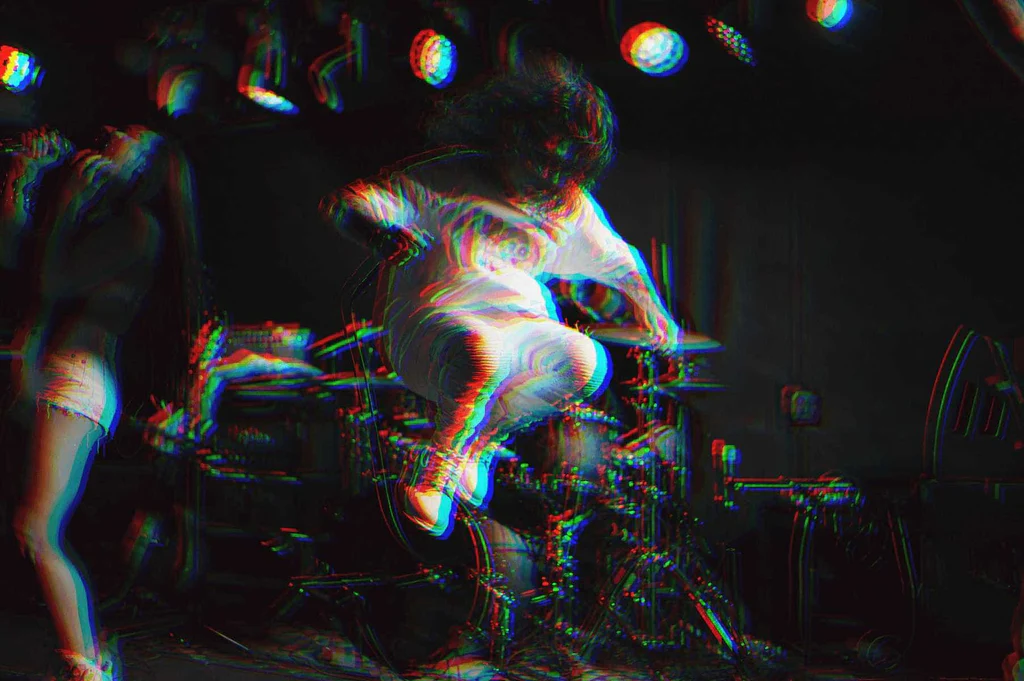 3. Guitar Hero III 
For the third instalment into the Guitar Hero series: everything from the track list to the awesome feeling of being a God-Tier rocker is better than ever. Rhythm games prior to the Guitar Hero series never caught onto the genius level thinking of having a physical representation of the instrument you were playing in the game. Trust us when we say that nothing makes you feel more like a rocker than wielding a Gibson Les Paul to jam out to the game's track list. Guitar Hero III continues the multiplayer aspect of the series by allowing up to two players to play either the guitar or bass versions of songs in cooperative career mode, or against each other for a battle of the bands style versus mode. 
4. Patapon 2 
Released on the PSP (PlayStation Portable), Patapon 2 is an incredibly innovative side scroller game where even the beat of a character's walking adds to the game's soundtrack. What sets the game apart from other games in the rhythm genre is how unique its visuals are and how they combine with the beats created by combat in the game. The game has a form of Multiplayer that allows up to two players to connect their devices wirelessly together in the same world side by side. If you don't mind a bit of fighting in your games and love interesting uses of multiplayer music making in games – then Patapon 2 is a perfect match for you. 
5. Just Dance 
Along with the phenomenon that was the Nintendo Wii, came the cultural explosion that was Just Dance. If you're anything like us, you played Wii Bowling while sat down on the sofa. But if you really wanted to thrive in Just Dance and get the highest score, you had to get up off the sofa and bust some moves to some great music. Unlike Dance Dance Revolution, you didn't need an expensive, bulging machine in order to play. All you needed was a Wii Remote and plenty of dance floor space, so the Wii's movement tracker could pick up your movements. Although Just Dance didn't have online multiplayer, it allowed groups of up to four people to battle against each other in a type of all-or-nothing versus mode.
6. PaRappa The Rapper 
Only the diehard fans of the rhythm game genre will remember this classic. PaRappa The Rapper released in Japan in 1996 and then worldwide in 1997 to great success. By successfully pressing combinations of keys in sequence, the main character PaRappa would dance and rap over hip-hop beats. Later instalments to the series included Multiplayer modes for players to battle off against each other to see who could achieve the highest score. The game was heavily praised for its animation, music, and gameplay – eventually reaching enough success to receive its own Anime series in 2001. 
7. Rock Band 4 
You'd think the 4th instalment into a series would start to reach a plateau and run out of new elements to introduce to fans in order to retain attention and hype. Not Rock Band 4 though. The 2015 game introduced over 60 new licenced songs, the entire back catalogue of the prior games, and even more songs in the form of downloadable content. If performing in a band with your friends in one room just wasn't enough to get you on board, Rock Band 4 was upgraded after its initial release with a Multiplayer mode that matched players from around the world to form a band – each player taking a main component of the band (vocals, drums, bass, and guitar). Game Developers at Harmonix wanted to heighten the focus of the multiplayer music making aspect of their game with the ability to form a band with complete strangers from all around the world. 
8. Karaoke 
We're taking a step away from video games for a little breather to bring Karaoke back. Their spot on this list is appropriate, as Karaoke is like an early form of multiplayer music making. Except it's in person, and more like music replicating than music making.
9. Electronauts 
As we get into penultimate position for the best Multiplayer Music Making games ever, let's take a step into the future of gaming for a moment. Although not all video game genres have adopted the Virtual Reality phenomenon, it is cropping up in a lot of different games series. From action to puzzle and even horror games – it's pretty much everywhere. VR has taken Rhythm games to new heights, and hopefully you've been paying attention. Electronauts launched in August 2018, and the developers describe the game as 'sonic environment where you build, drop and, and jam with your friends and top artists'. The game hands over the reigns to the players for total control of an immersive environment to make music however you see fit – all in a VR realm! While it's not a game that allows you to create epic pieces of music, controlling every intricate beat, tempo, cymbal and note, it's a great place to have fun with friends. All of these elements come together to create an incredible experience that almost takes the 1st place spot, but it's still a great multiplayer music making game nonetheless. 
10. WeJam 
To top our list off and swooping into 1st place is WeJam. Although we wouldn't classify ourselves as a Multiplayer game in your traditional sense of using the internet to connect players, we do offer a fantastic, immersive and fun music making experience for groups of music lovers. We encourage people of all musical talent to come down to our centres and have some fun. At WeJam, each participant gets their own interactive smart table that guides you through hitting coloured blocks on the screen that represent notes in songs of your choosing. Over the course of the session, and as you all progress as musicians, the challenge can be increased so real notes appear in place of the coloured blocks. We offer three sessions: a 45-minute session, a 75-minute session and a 105-minute session – The Legend Package. With this package, you can even record your band's final performance and be entered into the WeJam Hall of Fame for all eternity. Book your spot now and be the legend that organized the best day out ever.